Automist draws less water than a power shower. It can connect directly to the standard domestic water main, making installation easy and minimising water damage if it does activate. It has been independently, third-party, tested by Exova Warrington Fire and conforms with BS 8458:2015, as validated by a BSI Verification Certificate (VC 780009). It is commonly used as an alternative to fire sprinklers (BS 9251). 
Gain approval and improve life safety with less disruption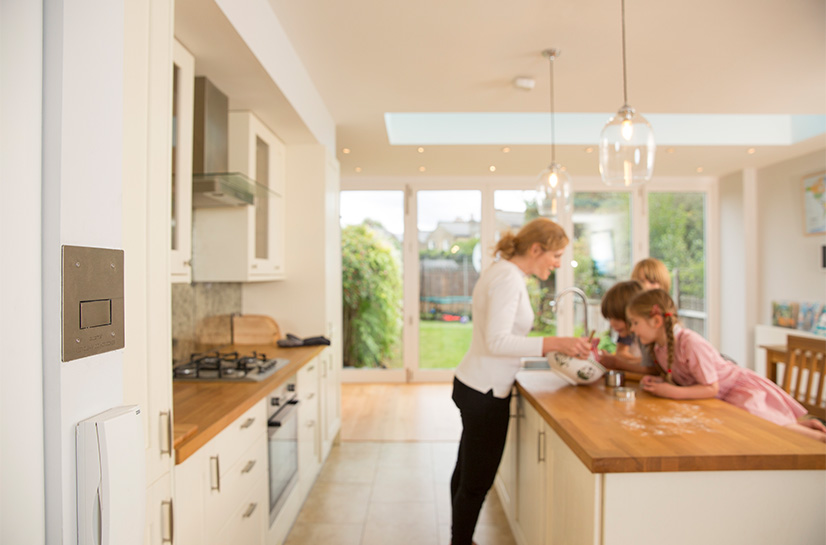 For architects and building designers, it frees up options for open-plan living without falling foul of the building regulations. Modular builders are opting for Automist to help prefab builds stay fire-safe, as it is ideal for factory installation and can be easily commissioned on-site. For water-sensitive heritage properties or listed buildings, it minimises disruption to ceilings and the pump occupies hardly any space. Automist runs off the water mains, avoiding the need for separate storage tanks and can enable targeted retrofit of social housing.
Retrofittable intelligent watermist fire suppression

Automist uses thermal sensing and an intelligent algorithm to detect a fire. It can operate much faster than a conventional fire sprinkler. Every second counts, particularly when protecting those who can not escape unaided.
Uses 10x less water than traditional fire sprinklers
Automist's runs directly off the domestic water main (max water demand 5.6 litres per minute) and does not need a large tank. Its pipes are only loaded with water when the system is activated. Low water usage reduces the cost of installation and the chance of leaks. When a traditional fire sprinkler activates, it can produce enough water to fill 3 bathtubs in 10 minutes. Automist uses much less water, filling only half of a bathtub in ten minutes. 

Wall mounted to blend into contemporary homes
Automist discreet wall plate is available in different colours and designed to blend into the modern home. It avoids the need for nozzles on the ceiling which might be difficult to install if beams, ceiling roses or fans are present.