BS 8458 fire sprinkler performance, rapid approval,
less water, less installation disruption

Automist® is a simple, retrofittable, fire sprinkler alternative. It can be used to gain approval when a traditional sprinkler is not practical, because of water supply requirements. It is designed to minimise disruption during installation and does not need a tank or a commercial incoming water main. Winner of numerous international awards, Automist is trusted in thousands of homes worldwide to meet building regulations.
---
Benefits of using Automist®
Testimonials
This simple but clever device should become a permanent safety feature in the home. Smoke alarms are an essential part of modern life but have remained fundamentally unchanged for forty years. Automist not only detects a fire but can put it out as well.
An innovative design concept that elevates the principle of fire sprinklers to a new level. The system is defined as an integrated part of the interior and equipped with highly advanced functionality. The topic of fire safety is thus expanded by a pathbreaking novel interpretation. This fire sprinkler system emerged as a design element within a living space, unifying safety with elegance.
I have little doubt in my mind that this product will have a major influence in enhancing safety within the home for many years to come....I have no hesitation in recommending this innovative product across the entire almshouse movement.
Automist is a fantastic fire-safety product and an enabler of great design. I now have the freedom to configure a property in the best way for my client's needs while still meeting important building control regulations. It's affordable and the unobtrusive nozzles don't get in the way of the design. As soon as I found out about Automist it was a no-brainer. My clients never imagined they'd be able to have the kitchen I created for them when we started the project.
---
How Automist Works
In the event of a fire, the system is triggered automatically by a ceiling mounted detector. Where desired, manual activation can also be provided through a manual call point.
Automist® connects to the normal domestic water supply. Using much less water than a traditional sprinkler system, water damage in the event of activation is minimised. Unlike conventional sprinklers, Automist® can be stopped manually by pressing a button on its control panel.
Once triggered, a small pump drives mains water through the unique nozzle unit, quickly filling the room volume with a dense fog. Automist Smartscan Hydra has the best performance in the range, as its infrared sensors scan the room to locate the hottest point before targeting the fire with a dense fog of water mist. 
Water mist removes heat and displaces oxygen from the fire zone, resulting in fire control, suppression or extinguishment. The intention is to lower the temperature, lessen the radiative heat and reduce the oxygen concentration to such an extent that combustion can no longer be maintained, therefore reducing damage and maintaining survivable conditions.
Adding water to a kitchen chip pan fire can greatly exacerbate the fire, the same is not true for water mist, as the updraught from the flame and the evaporation of the tiny droplets prevents water from reaching and collecting in the pan.
 Click to download the Automist Technical Information Pack.     Free Automist Technical Pack Download
---
Automist® is widely used both as a fire safety add-on and as a trade-off, and is incorporated into the fire strategy of developments large and small.
 Unsure whether Automist is suitable for your property?     Submit your layout for review
 

---
Automist® Types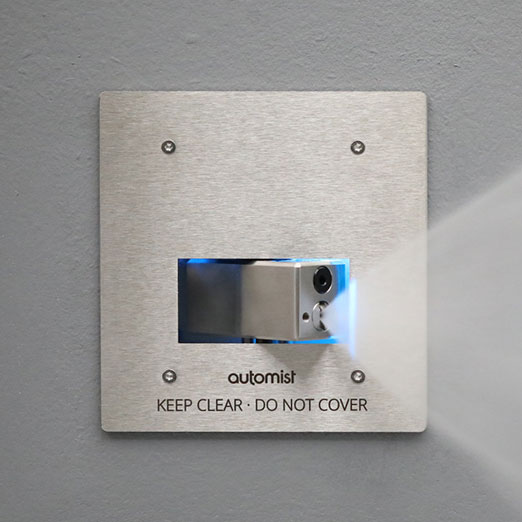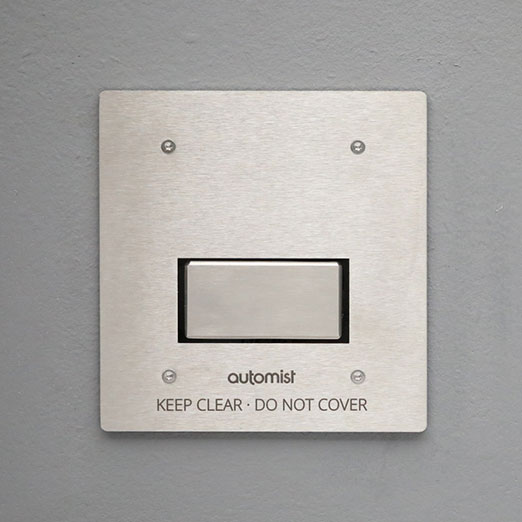 We developed Automist Smartscan Hydra® because we believed fire sprinklers could be better. They could operate faster, be more reliable, cause less damage and be applicable in more homes.
Typical use: Residential sprinkler equivalent
Automist Smartscan® can be used in the same residential applications as life safety sprinklers systems. It is described in an LABC Assured (EW534) and passed all the fire performance tests that are applied to both conventional sprinklers & watermist sprinklers.
Key features:
- Connect 6 heads up to one pump for cost effective whole house coverage
- Intelligently targeted watermist spray with 6m range for volume protection
- Requires an independent circuit either via a dedicated RCD or no RCD, and water supply
- Triggered by a combination alarm
Click here to learn more about Automist Smartscan.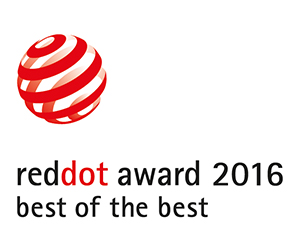 2) Personal Protection System (PPS) available Autumn 2021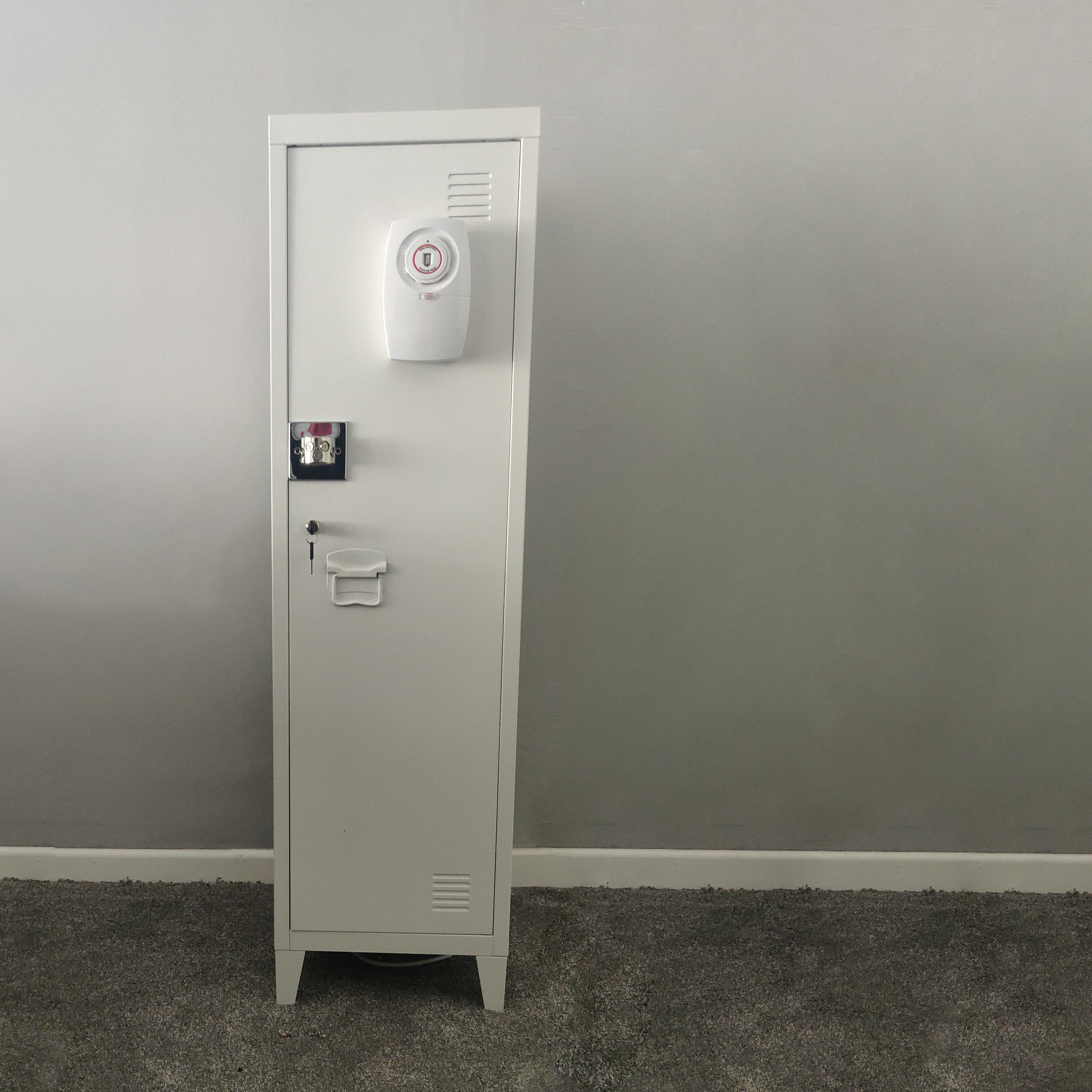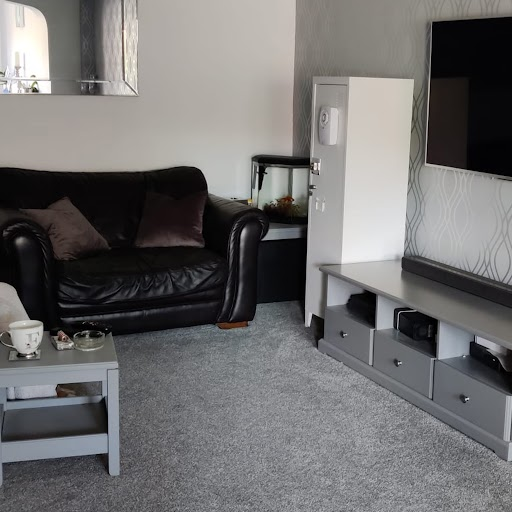 Automist® PPS is a portable fire suppression system with an integrated water tank.
Typical use: Vulnerable person protection
Automist® Personal Protection System (PPS) is designed to detect and suppress fire at the earliest stage before significant heat and smoke develop. It is a key tool for managing the fire risk to vulnerable individuals. Automist® PPS is unique because it can be customised to meet a variety of risk profiles.
Key features:
- Zonal spray that can protect an area with a radius up to 5m
- Plugs into a normal domestic mains socket
- Triggered by a flame detector
- Text notification of activation or power failure
Click here to learn more about Automist PPS.
---
The Automist Tap Mount and Fixed Wall Head systems are no longer available for new installation. Our network of authorised installers will continue to service these systems.