Watermist fire sprinkler designed to minimise water damage

Back
The Problem
When a traditional fire sprinkler activates, it can produce 60 litres of water per minute, enough to fill a bathtub in 2 minutes! Not only do fires trigger sprinkler heads, but accidental activation can also occur, especially in areas with high traffic flow or boisterous behaviour. Students have been known to hang washing in sprinkler heads and break the head's vial. People moving office furniture may even hit the sprayhead to activate it. 
The Association of British Insurers (ABI) is the voice of the UK's world-leading insurance and long-term savings industry. In their response to the London Assembly Planning Committee Review for Installing Sprinklers in London's Buildings, they said:
2.5 There is a risk that the introduction of more pressurised water systems into dwellings will cause an increase in the number and value of escape of water claims. This is of concern to the insurance industry as escape of water claims are the most consistently expensive peril for domestic property insurers.


Downloads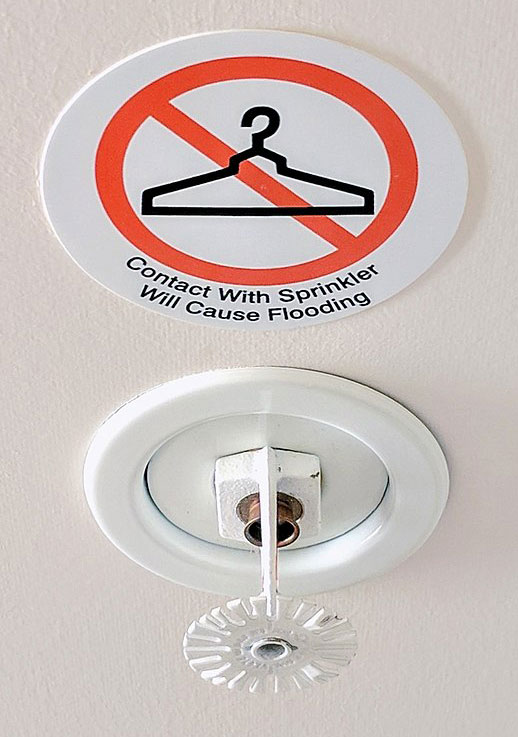 ---
What's the Alternative?
Automist Smartscan was designed to minimise the risk of leaks and minimise the consequential water damage of activation. It activates reliably only when triggered by a double knock alarm. Both the detector and the smart scanning head must confirm the presence of a dangerous fire. We then target its location with a dense watermist fog.
Automist is a dry pipe non-pressurised system which will provide the coverage you need without the risk of burst pipes. Unlike a wet pipe system, dry sprinklers are free of water until a fire is detected.
The additional benefit of this low flow requirement is that it can be connected to an existing water main. This avoids communal works, the need for tanks or upgraded water supplies.