Automist in open plan loft conversions
Homeowners often carry out refurbishment projects to create living spaces that look and feel better. Unfortunately, modern layouts are often at odds with the fire safety requirements of Building Regulations: the guidance encourages either unattractive compartmentation or costly and disruptive sprinkler systems. Automist can be used as a more convenient alternative to sprinklers to meet Building Regulations and is particularly suitable in loft conversions where the ground floor has an open plan layout.
No costly tank or water supply upgrade required
Automist connects to the normal domestic water main

Quick and easy installation with minimal disruption
Automist can usually be installed in a day or two with minimal disruption

We'll help you navigate the building control process
Our expert installers will guide you through the process step by step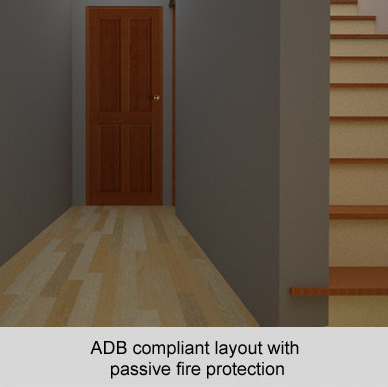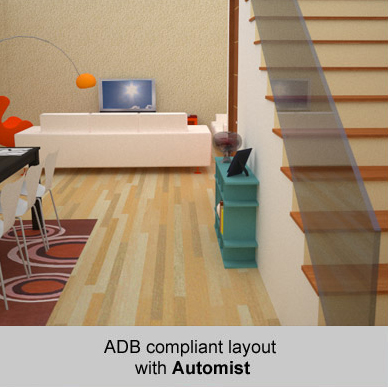 Get your dream layout approved when going above two storeys
You're effectively adding an extra floor to your home by converting your attic. As the windows in your loft conversion would be too high to jump from, the fire safety measures are more stringent. The escape route from your loft is usually your home's main staircase and hallway. This route needs to be 'protected' as much as possible and offer at least 30 minutes of fire resistance, giving you time to escape or be rescued by your local fire brigade. Most, if not all, doors that lead off the staircase will need to be upgraded to give this fire resistance or be replaced with fire doors. If your stairs lead to an open-plan living area, they will need to be enclosed with partition walls to protect the escape route, or you will need to install Automist in the open-plan area.
When it comes to building regulations, there are two main types of open-plan layouts:
Open plan habitable room - where the staircase or fire escape route is combined with a habitable room, such as a living or dining area, but your kitchen is separate.
Open plan habitable room and kitchen – where you have a kitchen combined with another room and open to the staircase or fire escape route. 


As a rule of thumb, the more open the layout, and the higher the property from the ground floor, the more restrictions there are. However, compliance with the regulations can be straightforward to achieve with the correct guidance. We commissioned independent fire engineering research into the suitability of Automist to meet the building regulations requirements for three-storey open plan dwellings, which you can show your surveyor. This work evaluated the vast majority of house configurations of this type in the UK. Building control will usually sign off a project if a fire engineer has fully assessed the property and the necessary fire protection measures are in place.
 


Speak to your approver. Local Authority Building Control and Approved Inspector practice can vary depending on where you live and which inspector you hire. If your project hasn't started and is time-critical, it's worth doing your research. Although there's no difference in the rules that both types of inspectors must follow, you can get a different level of service, cost and expertise depending on your choice. Our customers recommend Assent Building Control.

 
Frequently Asked Questions (FAQs) including everything from comparing quotes to product approvals
Your local Automist installer will be delighted to discuss your project and provide a quote