---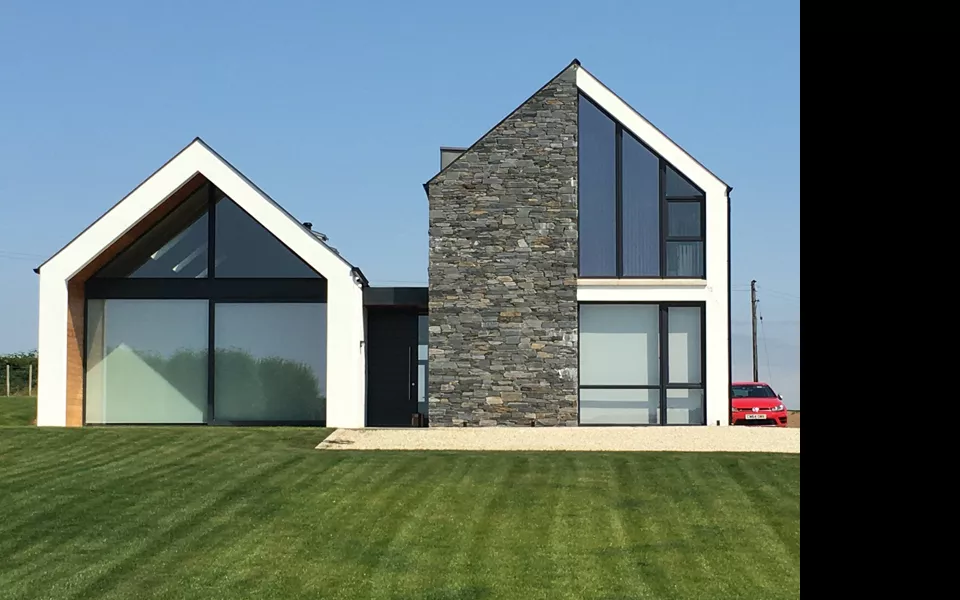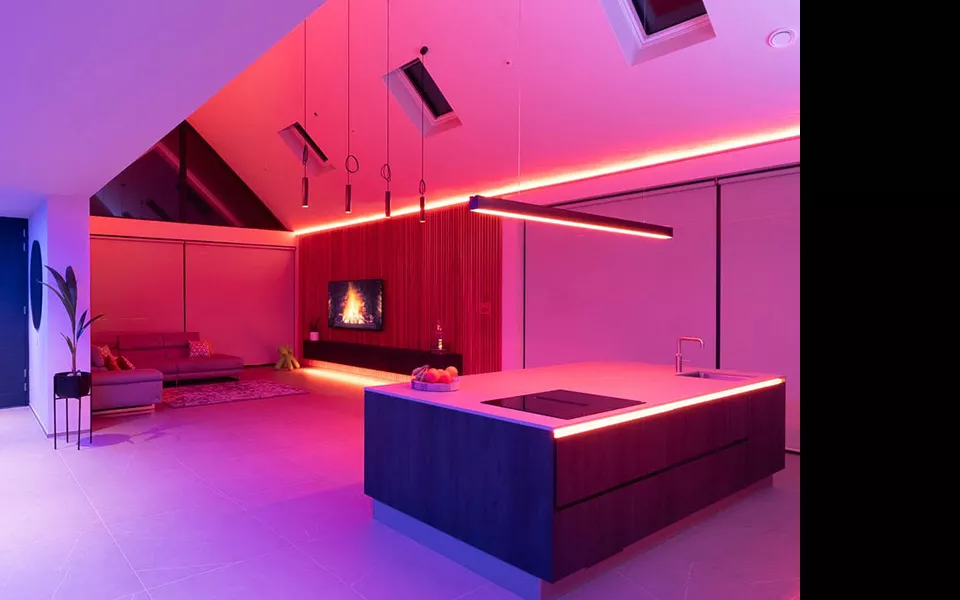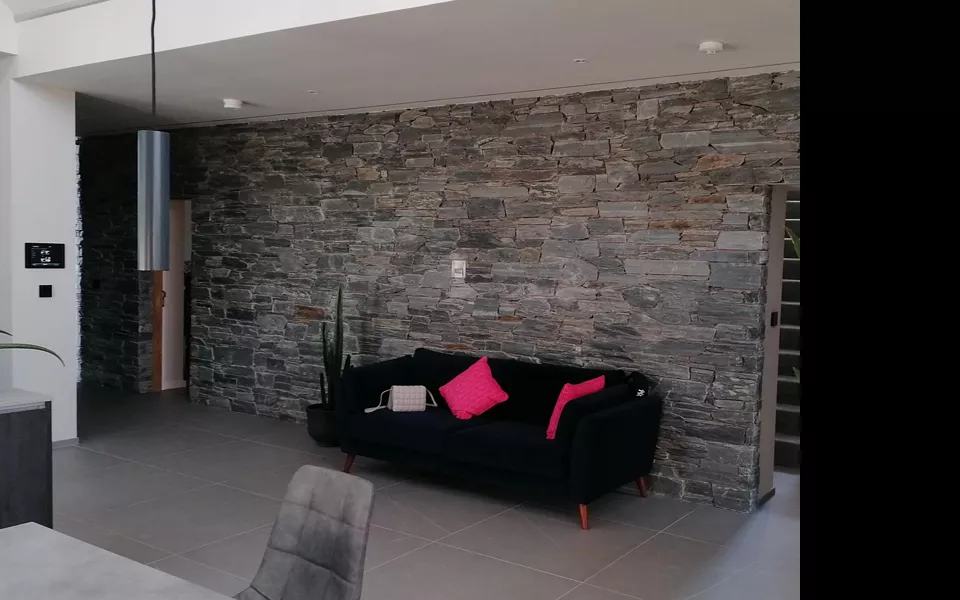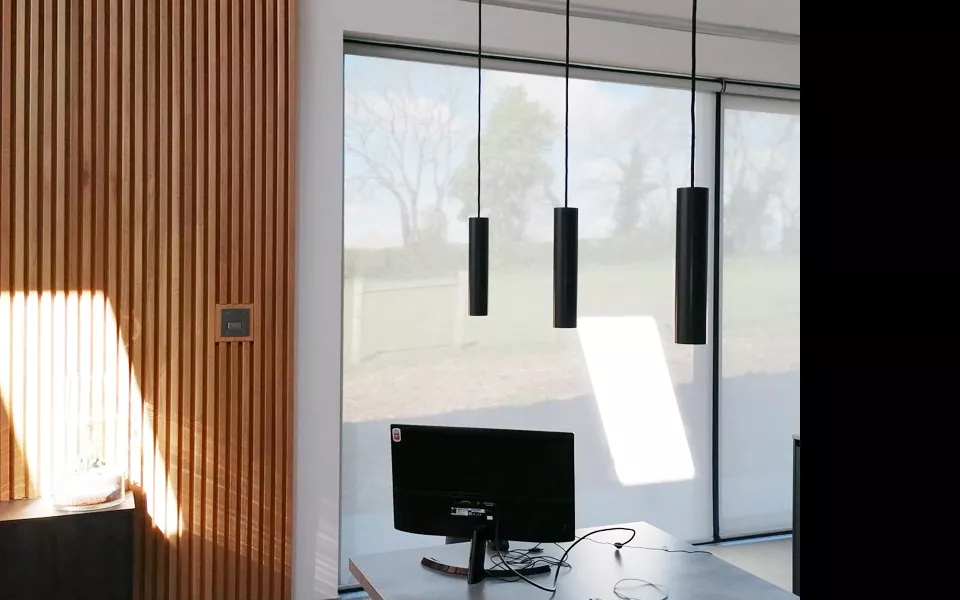 Automist enabled self-builders Mark and Helen McCall to develop their automated home in line with building regulations, without deterring away from their overarching vision.
The challenge
Built on an infill plot looking out towards the hills of rural County Down, Mark and Helen McCall made the decision to develop their own high-specification home – integrating the latest technology, including a centralised automation system.
As part of their vision for the contemporary home, a priority for the couple was having an open plan living and kitchen area.
To achieve this the proposed layout featured the main staircase leading into the kitchen, which worked perfectly in terms of fulfilling the McCall's requirements. However, building control advised that to comply with building regulations, the couple would need to install a fire suppression system to protect the means of escape in the event of a fire.
"We were initially really frustrated," commented Mark. "When you think of fire suppression, you automatically think of sprinklers and all I could picture was exposed pipes running through the kitchen, as you see in some commercial spaces – like offices.
"Whilst we understood the safety requirements, we had a particular aesthetic in mind for the completed home and the installation of traditional sprinklers just didn't align with what we were trying to achieve."
Our approach
From creating a fire-resistant glass cube around the staircase in an attempt to section off the space and make it a separate room, the McCall's set out to try and find an alternative solution to having an intrusive fire suppression system in place.
"When we were considering revising our plans completely, building control actually recommended Automist – describing it as a modern sprinkler alternative," added Mark.
"From our research, we could see that the system was contemporary in terms of how it looked and is installed within a home, but we were most impressed with how the system itself works.
"We'd not considered the consequential water damage you can expect in the event of an activation of traditional sprinkler systems and after spending so much time and money on developing our dream home, we really wanted to install a system like Automist, which would offer us enhanced detection and tackle a fire at the earliest possible time."
Automist approved installer Eurotec Safety Services was appointed to deliver the installation, advising the McCall's on the best approach to ensure the system would both comply with building regulations and meet their design requirements – without compromising safety.
Geoff Dougan, director at Eurotec Safety Services, said: "We were approached to carry out the install early on, which meant that we were able to carry out the initial plumbing and pipework whilst other works were being carried out.
"Due to the low flow requirement, the system uses less water than a power shower and as a dry pipe non-pressurised system Automist's hoses are free of water until a fire is detected. A small pump drives mains water through the unique sprayhead's nozzle unit, targeting the fire with a dense fog to control, suppress, or extinguish the fire.
"As it was only the kitchen that needed fire suppression coverage, requiring just two sprayheads, we were able to fit the system so that the pumps were located discreetly in the garage – which happened to be parallel to the open plan space. For similar installs we would usually install the system so that the pumps are stored in a utility cupboard, but this arrangement worked perfectly."
Outcome
Automist was installed at the McCall's smart automated home across two visits, with minimal disruption to the other contractors working on the project.
"We're really proud of our completed home," said Mark.
"Everything looks just as we'd imagined and had meticulously planned for, and we're really pleased that we were able to install with Eurotec's support, a fire suppression system that didn't hinder that vision."
If you are interested in knowing more about how Plumis' Automist technology can support your conversion plans, get in touch on 020 7871 3899.
Download - A guide to getting rapid Building Control sign off with Automist
---