Kitchen fire safety rules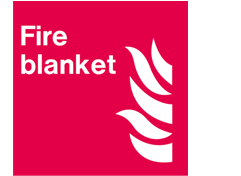 Keep the oven, hob and grill clean. A build-up of fat and grease can easily catch fire.

Never throw water on a chip pan fire. A fire blanket will smother small frying pan fires if used properly and quickly.

Never fill a pan more than one-third full of oil.

Don't take risks tackling large fires. Get out, stay out and get the fire and rescue service out by dialling 999.

Keep the toaster clean and away from curtains and kitchen rolls.

Don't leave the pan unattended. Fire starts when attention stops.

Don't attempt to cook if you are feeling tired, drowsy or if you have been drinking.
 
Chip pans are well known for being a fire risk and are the largest cause of fire-related injuries in UK homes. In 2006 the DCLG found that 43% of chip pan casualties occurred between 8 pm and 4 am. Many serious kitchen fires also begin when people have been drinking alcohol. The cause of these fires is often ovens or hobs being accidentally left on and flammable items being left too close to the stove. It is very easy to get distracted while cooking - the doorbell or phone can ring, children can distract us, or we can leave the room to do other chores while food is cooking.


The long-running advice to use a wet tea towel to tackle chip pan fires was scrapped by the UK government in 2008. When faced with a blazing pan of oil, it is best practice to "get out, stay out and dial 999", as most individuals are not trained to deal with fires and could potentially face severe injury or death if their attempts to extinguish fat or chip pan fires were unsuccessful. The wet tea towel advice is also contrary to all other advice we give to the general public about not tackling fires.
The best way to prevent a kitchen grease or chip pan fire is to stay near the cooker whenever you cook something. Don't leave cooking unattended. A fire only takes a few minutes to get out of hand. Check regularly on the things cooking in the oven. Be sure to keep your stove and oven clean, move anything that can burn at least 3 feet away from the heat, and take care if you are wearing loose clothing. It can easily catch fire.
When cooking with a chip pan or deep frying, dry the food before you put it in oil. If your pan starts to smoke, it's too hot. Turn off the heat and leave it to cool. Never pour water on hot fat and turn pot handles toward the stove's centre when cooking on the stovetop. Pots and handles should never hang over the edge of the hob where someone could bump into them. This is one of the major causes of serious burns in children and the elderly.
 
Get Equipped
Smoke alarms are a "must-have" in every home. Fit smoke alarms on every floor of your home and test the batteries once a week. If you live on one level, fit a smoke alarm in the hallway between the living and sleeping areas, ideally on the ceiling, at least 300mm away from a wall or light fitting. This means that the fire service can be called as quickly as possible, minimising the damage and life risk. Do not locate smoke detectors in kitchens. Steam from cooking can trigger an alert. A heat detector is often the correct device for detecting fires while minimising the likelihood of false alarms.
Automist Smartscan utilises "water-mist" technology, adapting it, to easily retrofit into the domestic environment. If a kitchen fire starts, a wireless combination heat/smoke detector triggers an infrared sensor to scan the room. If signs indicating a dangerous fire are found, this activates a pump that drives mains water through the unique wall-mounted nozzle unit, quickly filling the kitchen with dense fog and suppressing the blaze.
High-pressure water mist has proven itself highly effective in protecting deep fat fryers for many years and is regarded as a very clean way to address the problem. Traditional thinking says that you do not use water to extinguish an oil fire because bulk water sinks below the oil and boils, ejecting burning oil into the room. However, the very fine droplets produced by Automist are small enough to be carried by thermal air currents. Rather than sinking below the oil, they are drawn into the flame, where they suppress the fire.
 
Both fire blankets and extinguishers require a voluntary (usually amateur) firefighter present close to the fire to fight it. We don't think this is a good idea and some fire risk assessors have the same opinion. In the event of a fire, if conscious and/or mobile, the occupant should be solely concerned with leaving the premises safely, not fighting the fire. If unconscious or immobile, the occupant should have exposure to toxic gases and heat minimised to allow for plenty of time for the arrival of rescue services.