FIRE SAFETY WEBINAR: ARE WE DOING ENOUGH?
FEBRUARY 13th, 2023
Following demand at the 2022 HOMES conference, Plumis brought together its expert panel, once again, to continue the discussion on how the housing sector can ensure history does not repeat itself and best practices around fire safety are implemented.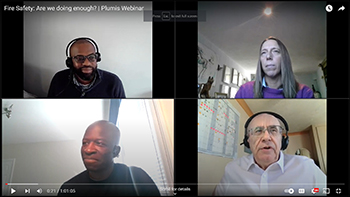 In this webinar, chaired by Jan Taranczuk (CIHCM, AIFSM) and featuring Stephanie Lloyd-Foxe (Head of Building Safety and Compliance at Magna Housing and Executive Director at NHMF), Yusuf Muhammad (Chief Design Officer at Plumis) and Kabbe Njie (Head of Fire Safety at Royal Borough of Kensington and Chelsea) the panel discuss:
Person-centred fire risk assessments and actioning recommendations
Competency and taking a targeted approach to fire safety
Barriers to adopting fire safety solutions
And much more!
Catch up and watch the webinar recording on our YouTube channel Plumis Automist now and make sure you are following us on Twitter and LinkedIn to stay up to date and book your place on any future webinars.