Back to FAQs
What is Regulation 7 and how can its requirements be met?
Introduction
'Building a Safer Future: An Independent Review of Building Regulations and Fire Safety' by Dame Judith Hackitt contained a diagram that outlined the many ways to meet Regulation 7.  Below is an explanation of the diagram, using Automist as an example. Notably, disruptive innovation is not expected to comply with existing Standards, only demonstrate it can provide equivalent performance.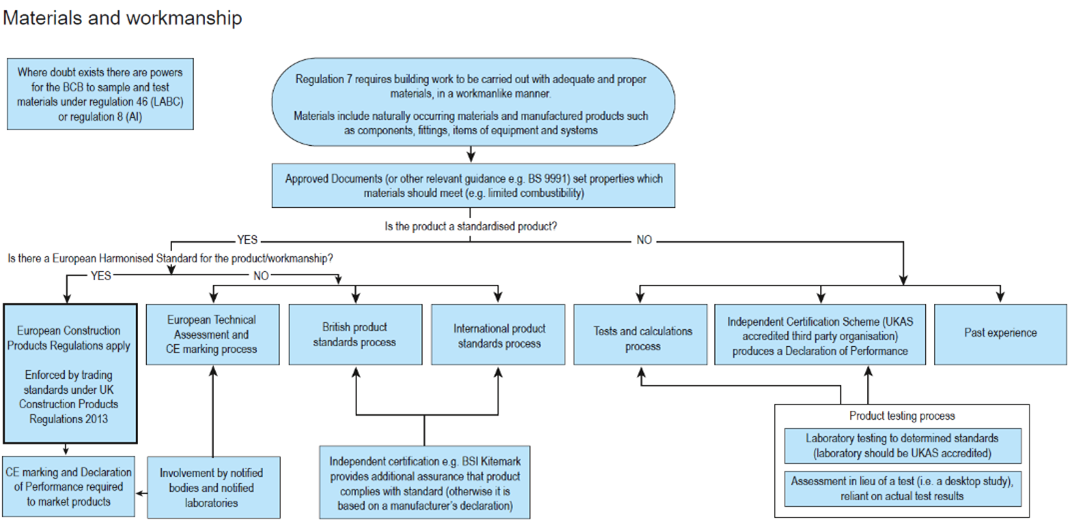 "Is the product a standardised product?"
Is the product in question within the scope of an EN or BS standard? A screw is a standardised product for the purposes of interoperability. EN 54 detectors are also standardised.  Many products fall within the scope of a harmonised European standard, even if there is no standard specific to that product.  Electromagnetic compatibility and the Construction Products Directive for example.
"Is there a European Harmonised Standard for the product?"
What is a harmonised standard?
Accessibility 
Websites and mobile applications of public sector bodies 
Chemicals
Chemical substances (REACH)
Explosives for civil uses
Pyrotechnic articles
Conformity assessment and management systems
New Legislative Framework (NLF) and Eco-Management and Audit Scheme (EMAS)
Construction
Construction products (CPD/CPR)
Consumers and workers protection
Cosmetics products
General product safety
Personal protective equipment (PPE)
Toys safety
Energy efficiency
Ecodesign and energy labelling
Electric and electronic engineering
Electromagnetic compatibility (EMC)
Equipment for explosive atmospheres (ATEX)
Low Voltage (LVD)
Radio Equipment (RED)
Restriction of the use of certain hazardous substances (RoHS)
Healthcare engineering
Active implantable medical devices
In vitro diagnostic medical devices
Medical devices (MDD)
Measuring technology
Measuring instruments (MID)
Non-automatic weighing instruments (NAWI)
Mechanical engineering and means of transport
Cableway installations designed to carry persons 
Equipment for explosive atmospheres (ATEX) 
Gas appliances (GAR) 
Inspection of pesticide application equipment 
Lifts 
Machinery (MD) 
Pressure equipment (PED) 
Rail system: interoperability 
Recreational craft and personal watercraft 
Simple Pressure Vessels (SPVD) 
Unmanned aircraft systems (UAS) 
Services 
Community postal services 
Sustainability 
Packaging and packaging waste 
All electrical devices and gas appliances are captured by a harmonised standard, as well as construction products.  If there are applicable European Standards published, products must comply with them.  This means the manufacturer must affix a CE Mark to the product (acknowledgement of a harmonised standard applies) and must be able to prove that it meets the performance requirements in these standards, and produce a declaration of conformity stating which standards apply to the product. Third-party testing by a European notified body (a laboratory recognised by the EU) is used to demonstrate this and should not be confused with third-party certification.
"Not within a harmonised standard but within a British Standard?"
If the product falls within the scope of a British Standard the product should be certified against that British standard, as third party evidence of its ability to perform. It is important to note that this only applies when a product is within the scope of a standard and therefore a test protocol exists to validate its performance. One which is out of scope may require a new test protocol to that standard by a third party laboratory.
"Not a standardised product?"
When the product does not fall within the scope of a standard, a custom third-party certification may be required. This process may take an extended period of time because the laboratory has to define the potential failure modes of the product and then create adequate tests for them. 
Regulation 7 states that either a UKAS or an equivalent accredited national laboratory can demonstrate the performance of a product for its intended purpose. 
In summary, for many products, both European harmonised standards and British Standards may apply. However, EN requires third party testing by Notified Bodies with a declaration by the manufacturer, while a BS requires third-party certification.  If a product is out of scope of either, third party testing is not mandatory, but it is desirable to demonstrate the product's ability to perform. 
The role of third party certification
Third-party certification is an essential component of demonstrating that a product will perform as intended.  It is similar to an audit, but for a product against an established procedure and provides evidence that a product complies with a given standard. It is superior to a declaration of compliance which is drafted only by the manufacturer. 
There are many residential sprinklers for sale in the UK, which are not certified in a UKAS accredited laboratory, but instead only UL Listed: 
'at the time of writing most sprinkler heads sold in the UK are tested and approved to a US standard, UL1666)', see BAFSA Information File 29.
N.B. The standard referenced is incorrect, UL 1626 is the correct sprinkler standard, equivalent to UL2167 for watermist. 
Automist and Regulation 7
Automist's compilation of applicable Harmonised European Standards can be found here: CE and FCC Marking  
Automist and BS 8458 compliance can be found here: Compliance to BS 8458  
The assessment of the Automist nozzles to BS 8663-1 can be found here: Electronic nozzles and BS 8663-1  
Disclaimer: This information is not intended to be a comprehensive guide to all of the aspects of the building regulations but rather a useful source of background information. Whilst every care has been taken to ensure that the contents of this document are correct at the time of publication, it should never be used as any form of substitution for the guidance documents. Plumis shall be under no liability whatsoever in respect to the contents of this document. It should be noted that there may be specific additional requirements dependent upon local authority building regulations and/or fire authority.