Sprinkler alternative for open plan
Free-flowing, open-plan layouts are highly prized, enhancing homes and adding thousands to their value. Design plans can, however, be hampered by building regulations. Automist, an award-winning automatic fire suppression system, can be used to overcome these problems, enabling open play layouts that meet building regulations. 
Automist Fixed Wall Head, the second product in the Automist range, made it easier for open plan layouts to comply with building regulations whilst providing reliable fire protection for a wider range of domestic applications. Whilst Automist Fixed Wall Head is no longer available for new installations, our network of trusted Authorised Installers, will continue to service existing installations.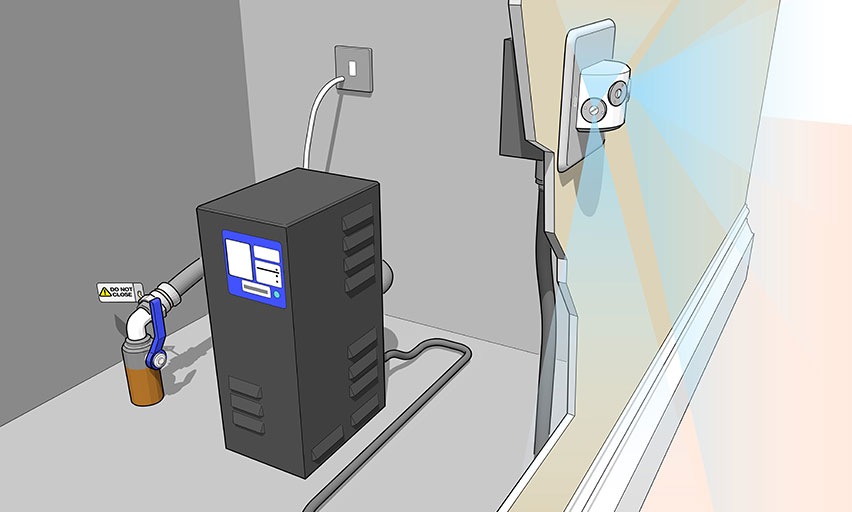 Connecting to the normal domestic water supply, Automist is a cost-effective alternative to sprinklers, as it does not require a tank. Installation is often easier too, as the key components are small enough to fit into most airing cupboards or kitchen units.
We have continued to refine and improve Automist, with the latest version, Automist Smartscan detecting fires and operating even earlier. Electronically activated, Smartscan uses infrared technology to accurately locate and target fires with a dense fog of watermist. Automist now protects more than 10,000 properties, from individual homes to large sheltered housing schemes.
 
Automist is a fantastic fire-safety product and an enabler of great design. I now have the freedom to configure a property in the best way for my client's needs while still meeting important building control regulations. It's affordable and the unobtrusive nozzles don't get in the way of the design. As soon as I found out about Automist it was a no-brainer. My clients never imagined they'd be able to have the kitchen I created for them when we started the project.