Open plan three storey best value residential sprinkler alternative
Automist® Fixed Wall Head is an innovative, fire protection solution designed to allow open plan layouts to comply with regulations. Because it dry pipe and uses ten times less water than traditional sprinklers it can minimise water damage and the risk of leaks.
Building and housing regulations have traditionally encouraged the creation of fire resistant compartments in homes so as to limit the spread of fire, an approach that consumers find increasingly frustrating as they seek open, light spaces to live in. Today however, the LACoRS guide, Approved Document B and the Scottish Building Regulations all recognise the need for flexibility of layout and all allow open-plan designs as long as some additional features, including fire suppression, are provided.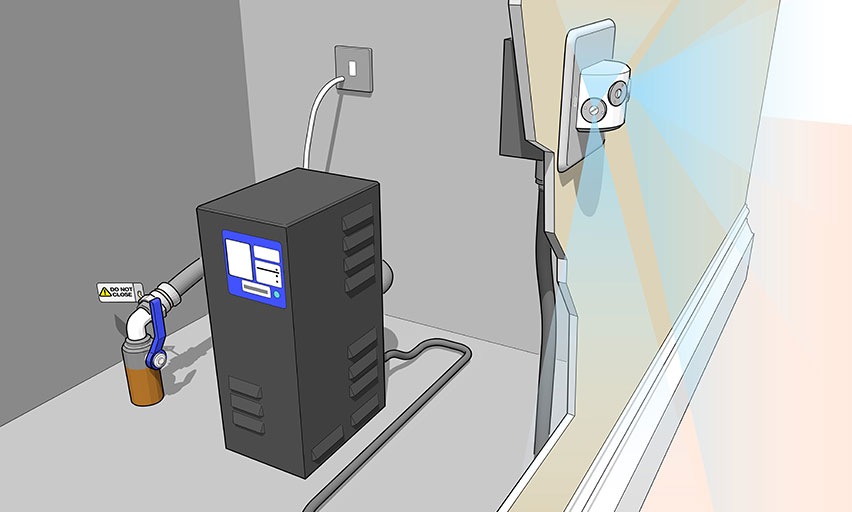 For architects and developers, Automist allows the modern, open-plan layouts that clients increasingly expect to comply with Building Regulations. For landlords, Automist can create a safe escape route in an existing open plan house with no impact on rentable space.
Automist is a fantastic fire-safety product and an enabler of great design. I now have the freedom to configure a property in the best way for my client's needs while still meeting important building control regulations. It's affordable and the unobtrusive nozzles don't get in the way of the design. As soon as I found out about Automist it was a no-brainer. My clients never imagined they'd be able to have the kitchen I created for them when we started the project.

Automist is available in an inconspicuous wall mounting version to protect escape routes that pass through living areas. The backplate is available in Bright Chrome, Satin Stainless, Gloss White and Antique Brass. It is designed to blend in seamlessly with the home environment. Automist won the James Dyson Award in 2009 and was selected by the British Library as one of the top 15 inventions of the last decade in 2010.