Back to FAQs
6.4 Extent of Protection
Important! The coverage requirement can vary depending on the design brief so this must be verified with the client, their main contractor, or their appointed fire engineer as they are the only participants with the knowledge required of the building and occupancy risks, and the overall Fire Safety Plan and the role that Automist plays in assuring safety: this responsibility should not be devolved to the installer.
Typically Automist coverage is required in one of four ways:
Coverage

Automist coverage

Typical examples

Open plan area
All of the open plan area connected to the escape route and not separated by a fire rated construction 
Throughout dwelling

All parts of the dwelling, with the exception of the following areas, which may be excluded unless required by a fire strategy or risk assessment: 

a) bathrooms fitted with a door and with a floor area of less than 5 m2; 

b) cupboards and pantries fitted with doors and with a floor area of less than 2 m2, and rooms in which the smallest dimension does not exceed 1 m, where the walls and ceilings are covered with non-combustible or limited-combustible materials; 

c) non-communicating, attached buildings such as garages, boiler houses, etc.; 

d) crawl spaces; 

e) uninhabited loft/roof voids; 

f) ceiling voids; 

g) external balconies permanently open to the outside. 

3+ storey loft conversion  
Open plan flat 

Throughout building

Within the individual flats as per 'throughout dwelling' (as above)' they do not need to be provided in the common areas such as stairs, corridors or landings when these areas are fire sterile. 

Commercial parts should be covered using a BS EN 12845 tradiaional sprinkler or equivalent (e.g. Firepro product). 

Blocks of flats with a top storey more than 11m above ground level 

Nominated fire risks 
As per the fire engineering report 

Fire engineered solution 
Elective fire safety upgrade 
Once this design brief has been specified the Authorised Installer will create a layout to ensure that the positioning of heads and of pumps is such that it maximises the resilience of Automist and provides full coverage of the area(s) that require protection. Detailed guidance of the layout rules can be found in the Design, Installation and Operation Manual (DIOM).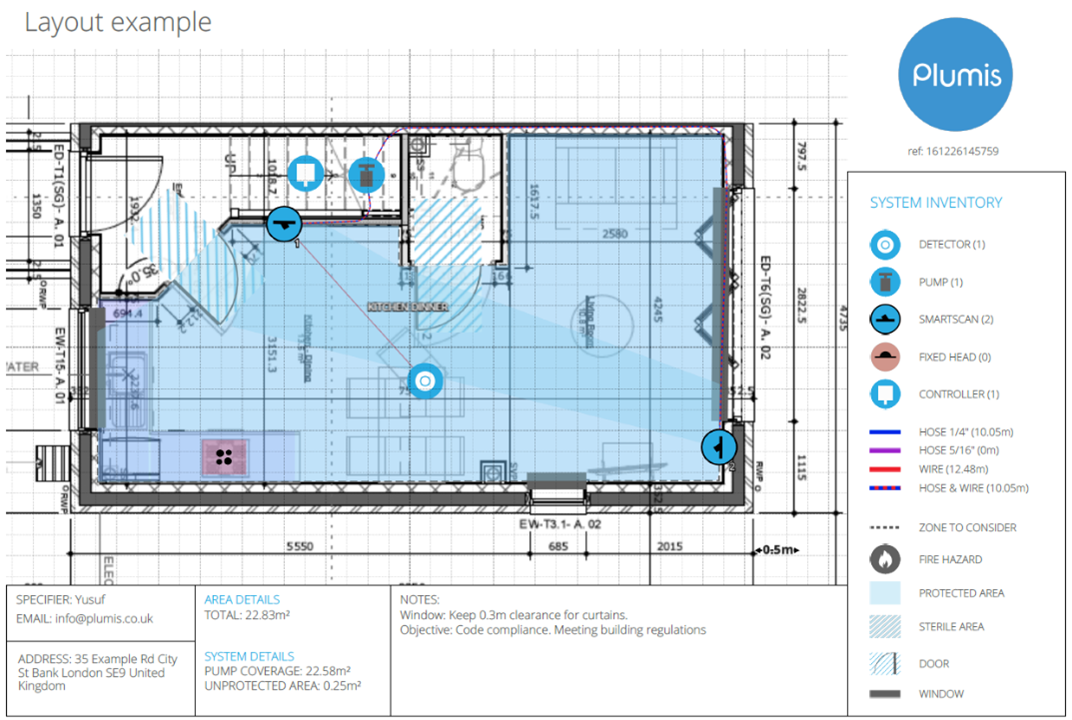 Return to the Performance clauses.
Disclaimer: This information is not intended to be a comprehensive guide to all of the aspects of the building regulations but rather a useful source of background information. Whilst every care has been taken to ensure that the contents of this document are correct at the time of publication, it should never be used as any form of substitution for the guidance documents. Plumis shall be under no liability whatsoever in respect to the contents of this document. It should be noted that there may be specific additional requirements dependent upon local authority building regulations and/or fire authority.