To ensure the Automist is fit for purpose, Plumis carried out extensive testing at the Exova Warrington Laboratory. Automist can achieve similar objectives set for traditional sprinklers in a domestic setting.
Free Technical Information Pack
Download our Technical Pack which contains information detailing how Automist uses a high-pressure pump to provide whole-room watermist fire protection. It shows how Automist can be retrofitted without major disruption. Provides links to download third-party reports of the extensive testing conducted at Exova Warringtonfire. Automist Smartscan has met the fire performance standards outlined in BS 8458.
The Automist sprinkler alternative technical Information pack includes:
Flyers.pdf

Product Handbooks.pdf

Independent 3rd party test reports from the Exova Warrington UKAS Laboratory.pdf

Declaration of testing and conformity.pdf
Free Download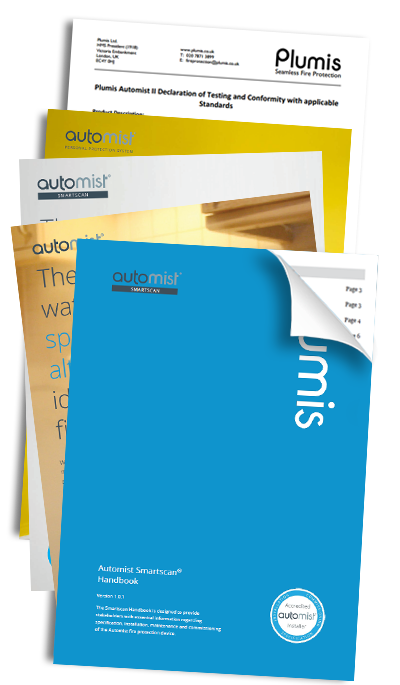 Automist looks to control and suppress fires, significantly reducing the risk of injury, life loss, and property damage by maintaining tenable conditions for as long as possible while occupants evacuate. This is achieved in several ways:
Reduction of room temperature in the region of the fire. Water mist devices achieve this by consuming much of the fire's energy in converting water to steam.
Reduction of smoke and toxic gases. Water mist devices achieve this by the production of copious amounts of inert steam in the immediate vicinity of the fire, locally excluding oxygen, reducing temperatures and thus slowing the oxidation reactions of the fire.
Flashover prevention. By constraining room temperatures to around 100°C or less, flashover (the rapid ignition of combustible items in the room) is prevented.
Providing cooling to structural elements of the home that are in the spray path, allowing them to resist the fire for longer.