Back to FAQs
What is the role of Standards?
According to the BSI website: 
'Standards are agreed ways of doing something, written down as a set of precise criteria so they can be used as rules, guidelines or definitions. However, standards aren't the same as regulations and following a standard doesn't guarantee that you're within the relevant laws. In fact, standards rarely cite the law as legislation could change within the lifetime of the standard. In a case like this, compliance with the standard will often mean you're compliant with the relevant legislation, although there are usually ways of being compliant with legislation without using a standard. A false claim of compliance is likely to put you on the wrong side of the law.' 
According to Dame Hackitt, the over-reliance on standardised solutions is one of the building industry's key failings, resulting in "an overreliance on the system" that "discourages[s] ownership and accountability for decisions".   
It should be noted as per BS 0:2016, A standard for standards - Principles of standardization published by BSi, clause 9:
'British Standards are voluntary in that there is no obligation to apply them or comply with them, except in those few cases where their application is directly demanded by regulatory instruments. They are tools devised for the convenience of those who wish to use them.
Particularly for the purpose of preventing anticompetitive effects or impeding innovation, whenever possible, provisions are expressed in terms of performance rather than design or descriptive characteristics.
Standards are always subordinate to the law. It is important that they are drafted so as to avoid any confusion between the provisions of a standard and requirements imposed by law. In general, it is not acceptable for standards to contain provisions that are already requirements imposed by law, nor to contain any statement recommending or requiring compliance with the law...
Unfortunately, when BS 8458 was created the authors did not future proof it considering these principles. Disruptive innovation is not expected to comply with existing standards, only demonstrate it can provide equivalent performance. Independent third-party performance testing to the applicable parts of the nearest standard, past experience and independent fire engineering assessments allow the person carrying out building works to demonstrate that the requirements of the regulations have been complied with and an innovative product is 'fit for purpose'. As outlined in Dame Judith Hackitt's: Map of the current regulatory system in her 'Independent Review of Building Regulations and Fire Safety' below which explains Regulation 7 and Approved Document 7: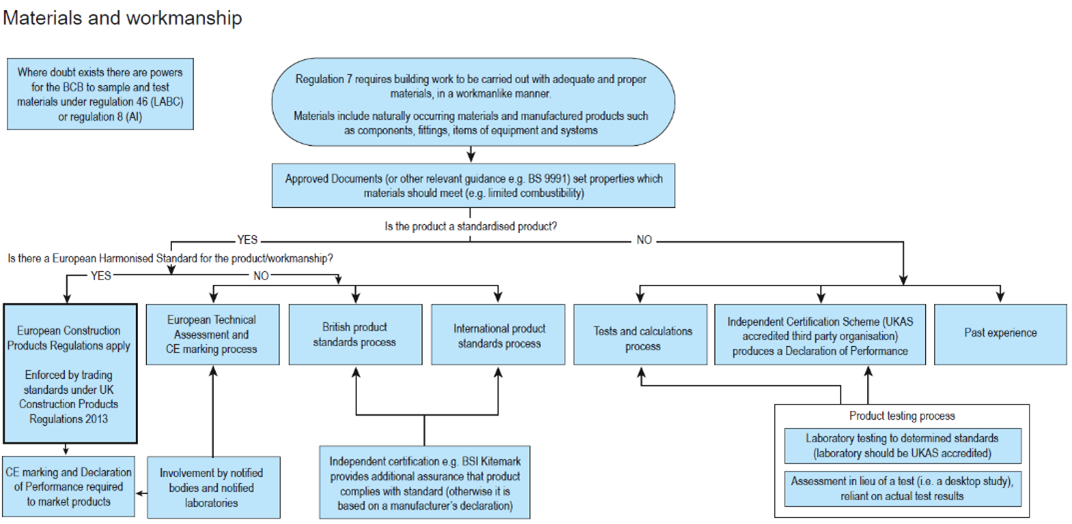 In order to facilitate the adoption of innovation we need more stakeholders to evaluate manufacturers technical information. This parallel route must exist because the development time for a new British Standard can take many years. As a result, standards tend to follow innovation. A proposer of a new standard or even a revision of an existing one must be able to demonstrate a broadly based need for any proposed addition and is therefore reliant on market adoption. To exclude a system based on the fact it is outside of the scope of a standard, as opposed to a technical justification, constitutes a restriction of competition, against the principles of BS:0.
Disclaimer: This information is not intended to be a comprehensive guide to all of the aspects of the building regulations but rather a useful source of background information. Whilst every care has been taken to ensure that the contents of this document are correct at the time of publication, it should never be used as any form of substitution for the guidance documents. Plumis shall be under no liability whatsoever in respect to the contents of this document. It should be noted that there may be specific additional requirements dependent upon local authority building regulations and/or fire authority.