Back to FAQs
Does the Pressure Equipment Directive apply to Automist?
A CE Mark is not required to declare the application of the Pressure Equipment Directive (PED) for Automist.
Automist Smartscan Hydra is only pressurised during its firefighting operation. While on stand-by, its piping is dry and unpressurised. The PED only comes into play in use, during which the max operating pressure of 110 bar. The maximum hose length is 60m with a 5/16" hose (8mm ID). Given water is a non-explosive fluid, it is considered a group 2 fluid in the directive. As Automist carries water with a pressure over 10bar, we refer to table 9:

Similarly, at a pressure of 110 bar (max) and a DN of 8, Automist is well within the area where Article 4, paragraph 3 applies.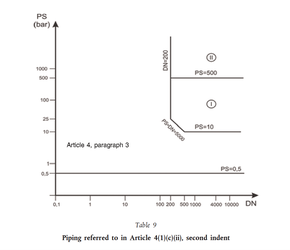 Article 4, paragraph 3 states: