Back to FAQs
6.11.3.2 Alarm Devices
Wired or wireless detectors in combination with scanning infrared sensors on the nozzles electronically trigger Automist, acting as an initiation device equivalent to a glass bulb bursting under the influence of heat. If the initiation device (detectors paired to Automist) are removed or faulty, it will cause the system to enter fault mode: persistently warbling sound and red LED flashing. This condition can be silenced for 12 hours by pressing the STOP button but can only be permanently removed by addressing the fault. In this way, unlike with a sprinkler, the points of detection are monitored. As a default, the early warning alarm required for the building is in addition to the detection used to trigger Automist, although they can be integrated.
Placement of detectors/alarms must follow BS 5839-6:2019. Notably, this implies a working range of no more than 5.3m for smoke detectors and gives guidance on unusual ceiling types.
Automist Smartscan Hydra's use of alarm(s) or detector(s) does not affect or reduce any requirements for the use of smoke detection in the property. Smoke detection provides a critical independent early warning, especially with slow-growing fires.
Plumis Wired Optical Smoke Detector (DT02)
This is a conventional, 2 wire, EN 54-7:2018 optical smoke detector which is the preferred activation method for Automist, whether used as an independent system from an alarm device or whether driven by a conventional alarm panel.  The detector uses a UB-4 or 6 base which is compatible to Nittan detectors.  Operating voltage of 12VDC to 36VDC. Quiescent current of 50µA @ 24V and alarm current of 50mA at 24V.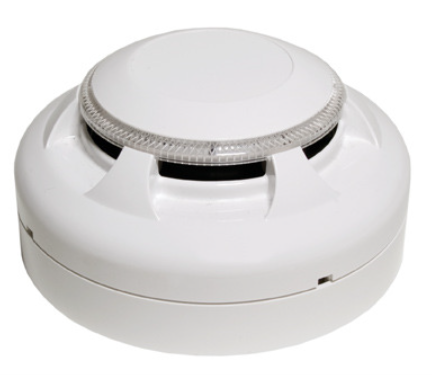 Plumis Wireless Multisensor Alarm (DT01)
The Wireless Multisensor Alarm is a 3xAAA battery powered wireless alarm custom designed for use with an Automist Smartscan Hydra spray head only. The alarm has a built-in wireless transmitter, which communicates with the control panel via the spray head receivers. When smoke is detected, the alarm sounds a loud local alarm, and the built-in transmitter sends a signal to the control panel. The Wireless Smoke Heat Alarm contains an integrated fixed 5°C temperature freeze sensor that will send a warning signal based on temperature detected. This alarm is designed to provide protection up to a maximum 21 meters spacing capability. The detector can send alarm, tamper, and battery condition messages to the Automist Smartscan Hydra's controller. Refer to the wireless alarm instructions for more details.
Domestic
Typically, a domestic alarm system is completely independent of the Automist installation because, as a default, the alarm system (regardless of grade) has already been specified and installed to meet the early warning need for means of escape.  In this scenario, Automist will use its own detectors and alarms to initiate the scanning for the fire, but these are above and beyond what is already present for the early warning purpose, provided by the independent alarm system.  As a result, BS 5839 requirements apply in full to the alarm system but do not apply to Automist as it is not being used for early warning purposes. The requirement for a mains powered and battery back-up alarm is a common source of confusion. It is required for the alarm system but not for any suppression system in a domestic installation, unless the occupancy and risk demand increased resilience or robustness beyond the typical installation.
Alternatively, a Grade D (or higher) standard fire alarm system might have been specified for the premises, together with an Automist system. Smoke detectors will be sited in hallways and landings at all floor levels, and they must also be sited in all habitable rooms and areas where a fire might start that communicate with the stair enclosure.
Automist can use the LD1 fire alarm system as an initiation device if early warning detection is present in all the areas to be protected by suppression, that enough zones can be created, and that the specification is of, at least, a Grade D.
Residential
In multi-storey blocks of flats, the Automist may be configured to output a confirmed fire in an "Automist zone" to the building's alarm panel.  Because the Automist zone is typically a room, this gives much better accuracy on the location of a confirmed fire than is typical with traditional suppression systems, which provide a confirmed fire signal only for an individual floor, or for the whole building. This is achieved by using an Automist pump with a relay output, product code: AP10.
The Automist AP10 pump flow output should meet one of the following recommendations. 
The output should be connected to an audible alarm.
Provided that the property is fitted with an automatic fire detection and alarm system meeting at least the minimum grade and category recommended in BS 5839, the output can be interlinked to this system. The automatic fire detection and alarm system should be in accordance with the recommendations of BS 5839-1:2017 or BS 5839-6:2019 as appropriate.
The alarm signal should be configured and acted upon in accordance with the fire strategy for the building.