A guide to sprinkler alternatives for domestic fire protection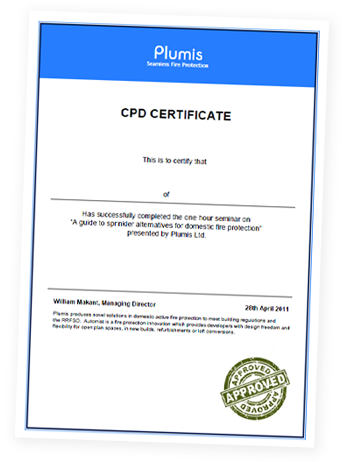 Together with our regional installation partners, we deliver a high-quality seminar in which delegates will learn about the benefits of active fire protection and the different types of sprinkler alternatives for domestic fire protection.
Traditional sprinklers are a well-established and effective means of controlling fire. However, their high cost and disruption explain their low penetration in domestic properties. Learn why Automist is trusted in thousands of homes worldwide to meet building regulations. It can be particularly useful to gain approval when a traditional sprinkler is not practical, because of water supply requirements. Automist is designed to minimise disruption during installation and does not need a tank or a commercial grade incoming water main. Winner of numerous international awards, it provides the opportunity for both compliance and fire safety to be maximised cost-effectively by making sure the objectives of Approved Document B are being met.
Who would benefit from a seminar?
Architects
Building Control Officers
Care Home Managers and Owners
Developers
Housing Associations
Mechanical and Electrical Consultants
Private and public landlords
Quantity Surveyors
Those with a duty of care for the vulnerable

Delegates will also be issued with a CPD training certificate, where required.
To arrange a seminar please contact us:
  Email - fireprotection@plumis.co.uk, or   Phone: +44 (0)20 7871 3899